New MSL Laboratories
News | 11 June 2020
Nearly two years on from turning the first sod, MSL is about to receive a state of the art new Laboratory.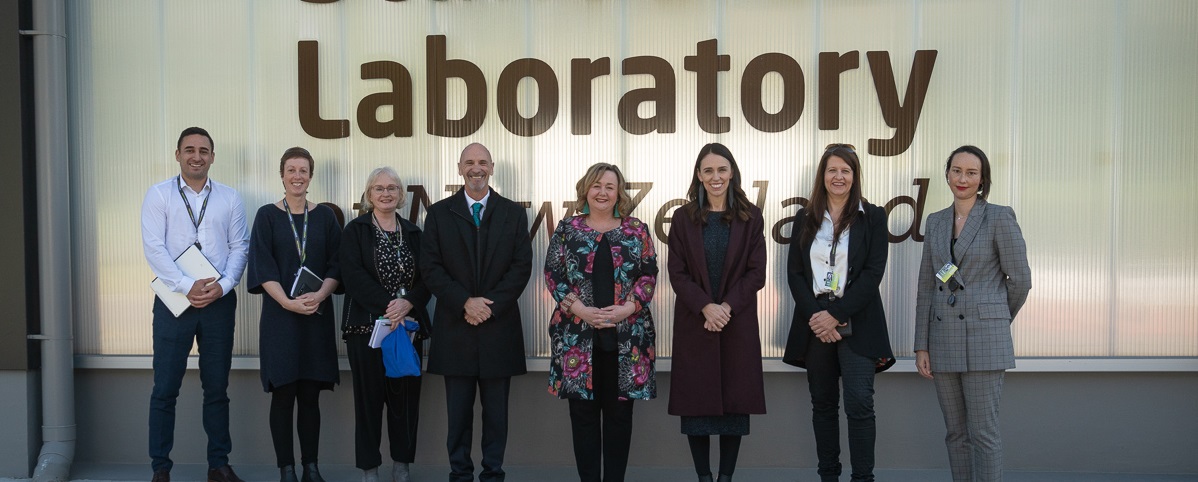 Image above: Prime Minister, Rt Hon Jacinda Ardern and Minister for Research, Science and Innovation, Hon Dr Megan Woods along with Callaghan Innovation Senior Leaders enjoyed a preview of the new building prior to keys being handed over to MSL.
After starting construction in October 2018, the new building for MSL's Electrical and Temperature teams is ready to handover to MSL in June, with the fit-out project completed last week.
This is the first new purpose built laboratory at Callaghan Innovation's Gracefield site in 10 years and is the first part of a larger programme of work upgrading and future-proofing aging research facilities.
"It's incredibly exciting to have completed the construction and fit-out of the new building for MSL," says Hayden Whelan, Programme Manager. "This is the first new building at Gracefield for more than a decade, and it has been a huge team effort to deliver a building that meets MSL's future needs."
Unfortunately impacted by COVID-19, only installation of the screened rooms remain to be completed for electrical standards once the border restrictions are lifted and the overseas experts can enter New Zealand. 
The Callaghan Innovation  Facilities Team are now able to get the building ready for use. This includes installing the digital systems, building safety including fire extinguishers and first aid kits, and getting bathrooms and kitchen areas ready.
MSL Director Fleur Francois is looking forward to getting the keys. "We cannot wait to take possession of the building later this month and have the final elements completed soon. Most importantly our people will be working in a safe environment, but we are also looking forward to improved business resilience to ensure we can deliver for our customers and having a facility we can proudly host visitors in and improve collaboration."
Tackling a globally unique move-in project will be a challenge, says Fleur. "The complexity of the move-in project is because we have to maintain traceability of all standards, while continuing to operate as a national metrology laboratory."
In the first 2-3 months before any equipment is moved into the new building the team will gather environmental information to understand how the building environment performs and how this will impact equipment performance. Once this baselining work is complete, a staged move of the equipment will take place over a 12-month period, with a focus on quality and safety to ensure the new set ups are stable, operating as expected, and can be used for traceable measurements.
"Once fully complete and operational the new building will provide significant benefits for MSL and Callaghan Innovation," says Fleur. "We are looking forward to officially opening the building next year and celebrating with our customers and key stakeholders."
Construction time-lapse video
The construction of this building has spanned 18months and while the exterior is quite simple but slick in design, the interior is where significant design aspects provide a complex and technologically advanced laboratory.  Check out the video on our You Tube Channel(external link) to see how the building took shape from day one.